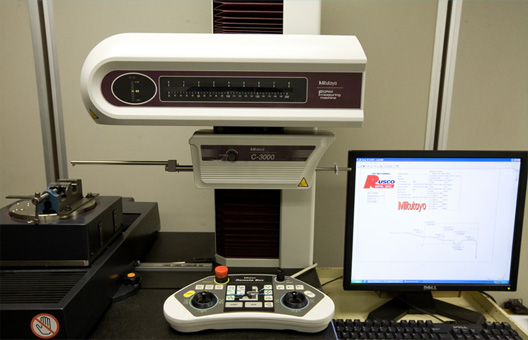 Our Quality Statement:
It is our company-wide responsibility to provide an on-time quality product that satisfies our customer. At the same time, we must strive for improvement while providing new products and solutions to help us grow in the market.
We strictly monitor and inspect the quality of our products using the following strategies:
(1)

Mitutoyo CNC form/contour tracer with 8″ stroke

(1)

Mitutoyo surface roughness checker with 8″ stroke and multiple .surface roughness checkers

(1)

CNC Brown & Sharpe CMM

(1)

Brown & Sharpe manual CMM

(2)

40″ Digital height gauge,

(1)

Fowler and

(1)

Mitutoyo

(10)

24″ Mitutoyo digital height gauge
Multiple OD Mic and calipers ranging from 1″ to 28″
Multiple ID and groove Mics ranging from .100″ to 20″
Mitutoyo Dial bore Mics
Mitutoyo and Brown & Sharpe Swiss Mics from .300″ to 8″
Click here to view our ISO Certificate.